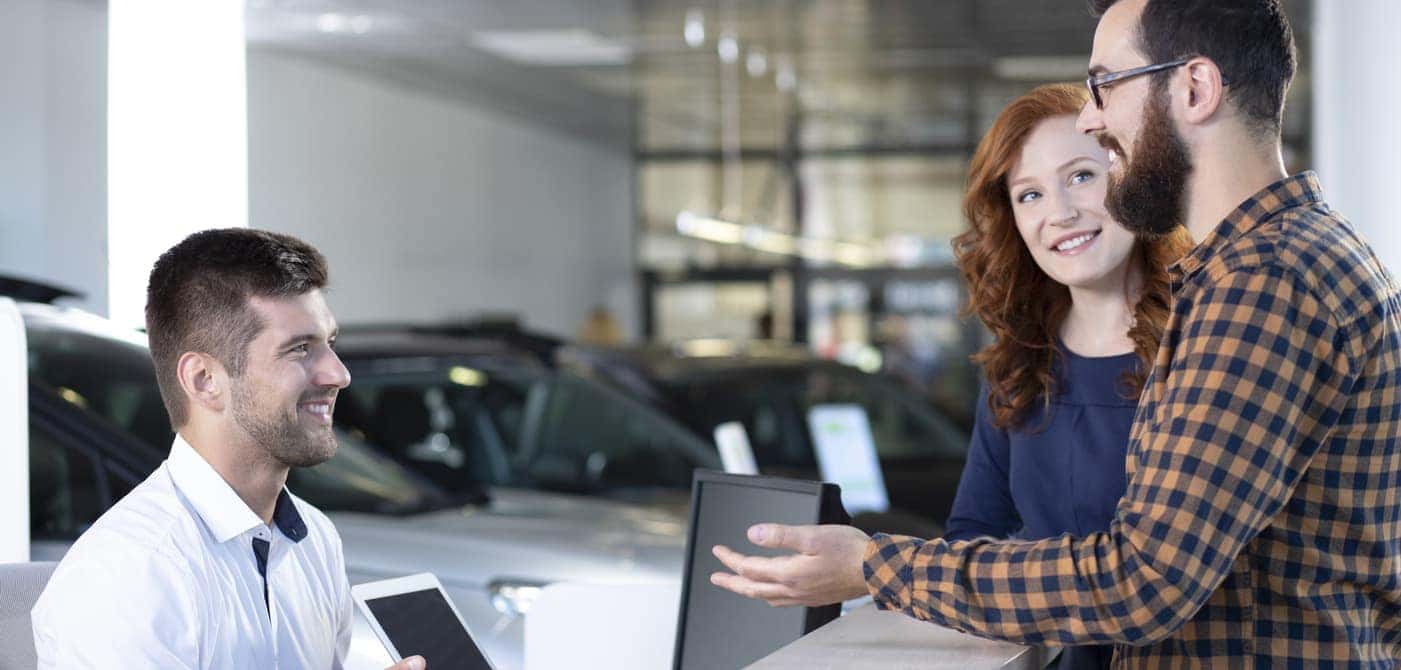 Trading in your current vehicle can be a quick way to generate some extra cash or reduce the downpayment on a new, used or pre-owned car or SUV that you're about to purchase. White Plains drivers find it to be a relatively simple process provided you have all of the correct documentation.
What is Your Trade-in Vehicle Worth?
Before learning how to trade in a car, it's always wise to establish its true value so that you have an idea of how much cash you should generate from the deal. If you still owe money on the vehicle, clearly the net value will be less. Fill out our convenient online trade-in form or use Kelley Blue Book to determine your vehicle's current worth.
Trading in Your Current Vehicle
You should be aware that if you have used a publication such as Kelley Blue Book or even if you receive a valuation from us, a visual inspection of the vehicle will be necessary to establish a true and official appraisal. Feel free to call us to find out more about that procedure. However, many Scarsdale and Hartsdale area drivers have found this to be a convenient and successful way to sell their current car, truck or SUV. Once you have decided on which vehicle you'd like to purchase, inform the sales associate that you have a trade-in and they will tell you what steps to take next.
Benefits of Trading in Your Car
It's convenient and fast – The deal is done at the point of purchase of your replacement vehicle. No Craiglist ads, photos, test drives, etc.
Trade it and Forget it – Once you've traded in your vehicle, it's out of your hair.
Possible Tax Advantages – When you sell a car privately, many states force you to pay sales tax, but on a trade-in, you can reduce your tax liability on the new car purchase by only paying tax on the net cost of your new ride.
Reduce Financed Amount on New Car Purchase – Your trade-in value can be applied to your downpayment to reduce the amount of the loan which reduces the monthly payments.
Better Condition Means Higher Value – Some used vehicles are in high demand and generate top price when traded in.
Possible Insurance Savings – Once a vehicle is traded in and you've taken ownership of the new car, the traded car is taken off your insurance immediately.
Try Trading In Your Car at Ray Catena Lexus of White Plains
Now that you've learned how to trade in your car, we invite you to browse through our inventory of new vehicles to find the car or SUV that you've been searching for. Take a moment to also learn more about the buying process from our team. Bronx area shoppers have found our finance team to be among the best in the business and they will work long and hard to find you the best loan arrangements to suit your pocketbook. Contact us today if you wish to discover more about how to trade in your car, or if you've already found the ideal new vehicle, to make arrangements to get a closer look at your potential new ride!