Leasing vs Buying

The perfect car is out there. If you're going through the vehicle research process, you may be putting in time exploring a range of vehicles, their amenities, and features as you prepare for your White Plains, Yonkers, and Scarsdale travels.
Once you've taken a test drive and found the car that is indeed the perfect match, you'll have to make an informed decision about whether you'll be buying or leasing. The leasing vs. buying debate is an important one to consider. Lexus of White Plains is here to help guide you on the right financial path.  Apply for financing to get started.
Leasing vs Buying a Car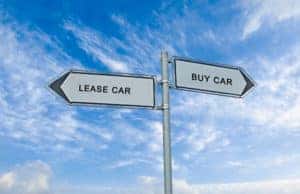 Deciding whether to buy or lease can depend on your current financial situation and needs. There are benefits to leasing just like there are benefits to buying a vehicle. Let's take a closer look.
Leasing
If you decide to lease your next Lexus from our dealership, the monthly payments will typically be lower than if you had purchased the same vehicle. Because you aren't dealing with a down payment, you'll be able to keep some money in your pocket.
This is also a way to get a better car for less money, so if you've dreamed of driving a luxury vehicle, this is the time to do it. A lease is a great way to stretch your money for a significant period of time, so you're able to enjoy a new, stylish car.
Leasing is also the way to go if you love having the Lexus model features and technology every few years. Since a lease will typically last just three or four years, you don't have to drive an aging vehicle with outdated tech features.
Also, you don't have to think about the maintenance that may be required of a car that's 10 or 15 years old.
Buying
When it comes to leasing vs buying, when you buy a vehicle it's yours for as long as you want to drive it.
You're able to make interior changes if you want, modify the audio, or add bumper stickers.
Some leases will also have mileage limits, but if you want the freedom to drive where you wish, when you wish, then you'll want to purchase your next car.
You're also able to trade in the car whenever you wish, whether that's after three years or 10 years. Sell the car back to our dealership, or to a private buyer. You may even want to pass it on to the kids.
Offering Smart Financing Solutions
Unless you're paying for your car in cash, you'll be sitting down with the team at our finance center to discuss a loan or lease. Apply for financing on our website and we'll be in touch to discuss the results of the application.
Want to get an idea of what monthly payments might look like? Our payment calculator is a highly useful tool and can give you an idea before you even visit our location.
Buying vs Leasing: The Decision Is Yours
If you're taking the wheel of your next car in White Plains, Yonkers, or Scarsdale, you'll have a decision to make: lease or buy? There are certain advantages to each. At the end of the day, though, the decision is yours. Have questions for our finance team? We have the answers.