Lexus Dealer Yonkers, NY

Just north of New York City, you'll find the area known as Yonkers, where there's lots to do and plenty of gorgeous parks that are just a short trip from the city. No matter where you choose to go in the area, you'll need a great car to get you there. You can find one to love at the Lexus dealer near Yonkers, NY: Lexus of White Plains. Contact us today to get started.
Lexus Models
If you're looking for a car that's just as luxurious as the Philipse Manor, you'll want to check out the models available at our Lexus dealership.
On our lot, you'll find everything from classic sedans like the IS 300 to capable SUVs like the LS 570. There's truly something that can handle any lifestyle, so it's easy to find a model that can handle all your needs.
Head to our website to see our online inventory of new and used models, and you can easily narrow in on your perfect model using the helpful filtering tools. You'll be able to browse by price range, fuel efficiency, features, and more to find the car that's best suited to your lifestyle.
Once you choose a model, let us know and we'll help you schedule a test drive at our Lexus dealer near Yonkers so you can get behind the wheel for yourself. Pay attention to all the factors that will affect your daily drives, such as how comfortable the seats are, how easily you can maneuver the car, and the usefulness of the car's tech features.
Explore Yonkers, NY
When you get a new car, the first thing you'll want to do is take it for a drive around town to test it out and show it off. Here's a couple of our favorite places in Yonkers, so you can stop at them along the way.
For a unique outdoor experience, take a trip to Untermyer Gardens. The park offers stunning views of the Hudson River, gorgeous hiking trails, flowing fountains, and architecture to explore. The walled gardens are a true gem, with pools, fountains, and statues to enjoy as you stroll.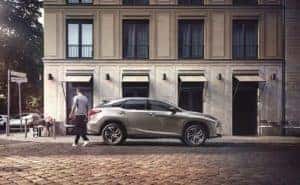 Philipse Manor Hall State Historic Site is where over 200 colonialists signed the Declaration of Dependence, a commitment to remain loyal to King George III, in the same year as the Declaration of Independence was signed. Frederick Philipse III was one of the most prominent signers of the document, and today, his mansion serves as a museum of history, art, and architecture right here in Yonkers.
Visit Our Lexus Dealer near Yonkers, NY
Are you ready to find a luxurious new car that you'll love for your commutes through Yonkers and beyond? Get started on your search by checking out our online inventory or come see us in person at Lexus of White Plains. We'll help you discover the Lexus model that's right for you and soon, you'll be driving home in your brand-new car! We can't wait to see you in our showroom. Contact us today to learn more!