---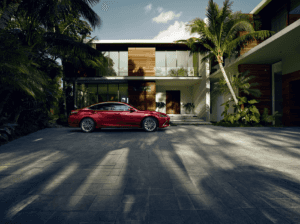 With its long, wide stance and sleek appearance, the Lexus ES powers drivers through White Plains, Yonkers, and Scarsdale each and every day. With a lease, you'll be able to take the wheel of a sedan that's designed for daily drives and weekend adventures.
One way to enjoy this car is with a lease. The flexibility of a lease provides you with a vehicle that you'll love and a financing package that fits into your lifestyle. Continue reading to learn more about the ES, Lexus leasing, and how to get behind the wheel. Contact us today to get started.
Key Features
The Lexus ES knows how to turn heads. This powerful luxury sedan has been crafted to surpass your expectations. With interior features like Apple CarPlay® making drives easier and a strong V6 engine delivering over 300 horsepower, you're bound to enjoy every trip you take in this car.
The spacious interior offers available heated and ventilated seats, along with ambient lighting functionality and legroom that ensures everyone inside is happy. No matter what the temperature is outside the car, you'll be satisfied inside.
Want to take control of your drives? The paddle shifters found in every ES put the thrill of fast gear changes right at your fingertips.
---
Why Lease a Lexus ES?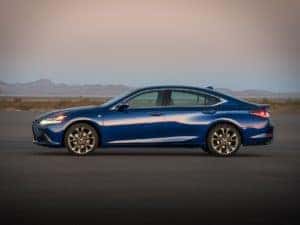 The freedom you'll have with a Lexus ES lease is impressive. If you're the kind of driver who likes to keep your options open, then you'll want to consider leasing your next car. The good news for you? We offer flexible payment options and programs designed to get you behind the wheel and out on the roads of White Plains.
Those who lease will often pay less up front. Since you aren't getting involved with a financing contract, you aren't paying for the entire cost of the vehicle, and there's no down payment to think about.
When the lease is nearing its end, you have some options. Return the vehicle, lease another Lexus, or buy out the remainder of the lease and become the owner of the car. With this kind of flexibility, the ball is always in your court with a Lexus ES lease.
Apply for Lexus Financing Online
You don't even have to visit the dealership to apply for Lexus financing. Yes, you can start the lease process by filling out the finance application found on our website. Provide us with some basic information about yourself, and we'll be in touch to talk about a Lexus ES lease.
Have a car you're considering trading in? Whether it's a Lexus or another manufacturer model, we'll factor that into the lease. You can get an estimate of what that current vehicle may be worth by using our online trade-in tool.
---
Ready to Enjoy Luxury?
If you're ready for the luxury driving experience, it's time to get behind the wheel of a Lexus ES. Stop by Lexus of White Plains to get up close with a Lexus ES. Then, check out the Lexus ES lease options near White Plains, Yonkers, and Scarsdale. We look forward to seeing you here at our dealership soon.
---