Lexus NX 300 Trim Levels

The Lexus NX 300 has revolutionized the luxury crossover market around White Plains, Yonkers, and Scarsdale, NY. Our Lexus of White Plains team is incredibly excited about this vehicle, and we'd like to share that excitement with you. Check out this guide to its many trim levels and contact us for a test drive!
NX 300
The Lexus NX 300 is the base model for this sumptuous crossover, and what a base model it is.
A 2.0L Turbo In-Line 4-Cylinder Engine can kick out as much as 235 horsepower and 258 lb-ft of torque.
As a Certified Ultra-Low Emission Vehicle (LEV lll), it doesn't achieve its power at a major cost to the environment…or your wallet: both the FWD and AWD versions get at least 25 combined miles per gallon.
NX 300 F Sport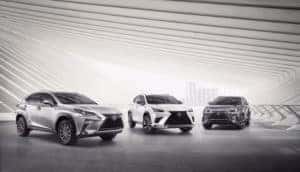 The next level is the Lexus NX 300 F Sport. Just how sporty is this thing? Well, check out these great specs:
Turning Circle: 37.4 feet
Top Track Speed: 124 MPH
Aerodynamic Drag Coefficient: 0.34
0-60 MPH: 7.2 seconds (FWD version) or 7.0 seconds (AWD version)
Plus, its Brake Assist feature will ensure that stopping exactly when you want to is as easy as getting going.
NX 300 Luxury
The Lexus NX 300 Luxury trim is generous in many ways…but especially when it comes to passenger space.
Legroom: 42.8 inches in the front and 36.1 inches in the rear
Headroom: 37.4 inches in the front and 38.0 inches in the rear
Shoulder Room: 57.3 inches in the front and 55.3 inches in the rear
That means that you, your family, and your friends will have the luxury of stretching out and truly relaxing.
You Pick: FWD or AWD
Each of the Lexus NX 300 trim levels that we've mentioned so far is further customizable as either an FWD or AWD drivetrain:
The FWD drivetrain is a standard front-wheel drive, while the AWD drivetrain is an all-wheel drive system that significantly enhances your vehicle's ability to handle almost any road or weather conditions.
But only the AWD drivetrain is available for the two hybrid options, which we'll discuss below.
Two Hybrid Options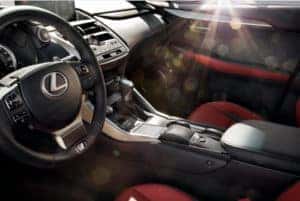 Both the Lexus NX 300h and the NX 300h Luxury are hybrid trim levels with significantly-boosted fuel economy ratings:
33 miles per gallon in the city, 30 miles per gallon on the highway, and 31 miles per gallon combined. And that's all while still clocking in at a total system power output of 194 horsepower…
You don't sacrifice much in terms of speed and acceleration, either, with top track speeds of 112 miles per hour and 0-60 MPH accelerations in 9.1 seconds for both the Lexus NX 300h and NX 300h Luxury.
Contact us today at Lexus of White Plains to schedule your test drive…
Now that you have a better sense of the various trim levels for the Lexus NX 300, why not experience them for yourself at our NY dealership? Getting in touch with us is simple – reach out to us on the phone, on our website, or in person today to discover what each trim level could mean for your lifestyle. Thank you!