Lexus NX MPG

A luxury crossover is within your grasp. The Lexus NX, known for its capability and classy interior, should also be known as a solidly fuel-efficient choice in White Plains, Yonkers, and Scarsdale. Before buying or leasing any car, it's helpful to know more about fuel economy. This way you can plan for how much you may spend on gas or an oil change, which of course is dependent on how often you take the wheel.
With our Lexus NX MPG information, you'll be a more informed driver. Keep reading to learn more about fuel economy for this model from the team here at Lexus of White Plains. Contact us today for more information.
Fuel Economy
Let's start with the classic. The Lexus NX 300, with its front-wheel drive setup, will be able to get an EPA-estimated 22 city/28 highway MPG.1 This is a comfortable, reliable, and fuel-efficient choice for your drives.
Even if you choose to add on all-wheel drive capability, it won't have an effect on the NX fuel-economy ratings. You'll get a better grip on the roads and traction you can count on when the roads get slick, without having to sacrifice fuel economy like you may have to in other manufacturer models.
The Lexus NX also features F SPORT and Luxury models, though MPG remains the same with both. You will happen to see a big difference if you choose the NX 300h, however. With this hybrid edition of the NX, expect 33 city/30 highway MPG.2 If you're looking to find a way to avoid filling up, a hybrid makes a lot of sense.
Performance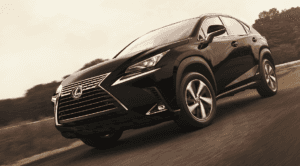 With the entry-level edition of the Lexus NX, you get performance that'll feel anything but entry level. The turbocharged 4-cylinder engine is a 2.0L one, and it delivers 235 horsepower. It has the power you need for daily driving and feels sporty out on the highway, too. The engine is mated to a 6-speed automatic transmission with paddle shifters, as well.
How about that hybrid Lexus NX? It's certainly capable. With full-time all-wheel drive and the rear electric-drive motor, your travels can be powered by a fuel-efficient hybrid. You'll get a total of 194 horsepower between the 2.5L gas engine and the electric motor.
Get Ready for Your Lexus Driving Experience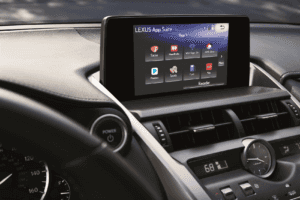 We've helped many drivers across the region get into their Lexus NX, and we're here to help you, too. Whether you've decided to buy or you're going with a lease, sit down with our knowledgeable financial experts to learn more about your options. We'll be sure to answer any questions you may have, too.
If the latest features and technology are important to you, then leasing may be the right choice. On the flip side, if you tend to hold onto cars for years, then buying may be the best course of action.
Let us help you get behind the wheel with a loan or lease today!
See the Lexus NX in Action at Lexus of White Plains
The Lexus of White Plains sales team looks forward to discussing the latest Lexus NX with White Plains, Yonkers, and Scarsdale drivers here at our dealership. Now that you know all about Lexus NX MPG, you're well aware that this fuel-efficient vehicle can make a great next car.
Want to learn more from our sales team? Reach out to us today to schedule your test drive!
1 2020 Lexus NX 300 (FWD) EPA 22/city, 28/hwy, 25/comb MPG estimates. Actual mileage will vary.
2 2020 Lexus NX 300h (AWD) EPA 33/city, 30/hwy, 31/comb MPG estimates. Actual mileage will vary.