Lexus NX Tire Size

As you travel around White Plans, Yonkers, and Scarsdale, your tires are always working hard to get you to your destination. At Lexus of White Plains, our team takes the time to educate drivers about NX tire size, so you're prepared for the road ahead.
How do you make sure you have the right tires? After reading this extensive review from our experienced service team, you'll know which tires fit your Lexus NX. Schedule a service appointment today.
What Size Tires Does My Lexus Need?
Ready to take the wheel of the Lexus NX? It's time to enjoy the luxury experience. To make sure you enjoy this Lexus every time you step inside, be sure to have the right tires for your vehicle.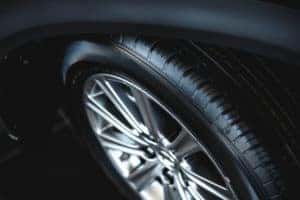 Here's a closer look at the tires that fit your Lexus NX.
Type A tires:
Type B tires:
Type C tires:
You may be wondering what some of these numbers and letters mean. We're glad you asked. The first three-digit number, for instance in the "Type A" section, explains the width of the tire in millimeters running from sidewall to sidewall. That means the Type A and Type B tires are 225 millimeters, while the Type C tires are 235 millimeters.
The middle portion, for instance "65R17," explains the radial construction of the tire, while "17" means the tire has a diameter of 17 inches. If you're driving the Lexus NX, both 17-inch and 18-inch wheels are found in this model.
To get the best possible fuel economy and performance, your tires should be set to the proper pressure. Type A tires need to be set to 35 PSI for both the front and back, while Type B and Type C tires should be set to 32 PSI. This ensures your car is ready for the road ahead.
When Do I Replace My Tires?
The answer to this question can depend on how you drive your car and how often you drive it. If the treadwear indicators start to show, or the sidewall is showing damage like a cut or crack, there may be not only external damage, but internal damage, too.
If any of your tires are six years old (or older), they should be inspected by a Lexus technician at our service center. Even if you don't drive often, or there's no damage to the naked eye, we want to check the structure and inner workings of the tire, so you're able to drive with complete confidence.
Providing Lexus NX Tire Care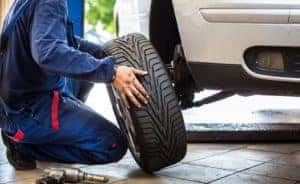 A tire rotation helps to ensure that your Lexus NX tires wear evenly. If you don't take care of a tire rotation as laid out in your Lexus owner's manual, you'll have uneven tread wear and possibly have to replace tires sooner.
Your NX also comes with a tire pressure warning system. If the tire pressure drops below a certain level, a warning light will turn on, letting you know that air needs to be added to the tires. If you've added air, and the light remains on, there may be an issue with the tires. Let us know, and we'll do our best to repair the tire.
Have a Question About Lexus NX Tire Size? We Have the Answers
The service team at Lexus of White Plains is here to take care of your car's tires. Before that next trek to White Plains or Yonkers, be sure that your car's tires are ready for what's next. Get in touch with our service team near Scarsdale today!