Lexus RX vs Lexus GX
The vehicle market is expansive, especially when you have a wide variety of preferences. So, when you're looking for your next luxury set of wheels, where do you start?
Our team at Lexus of White Plains is here to help with that. We're your go-to dealer near White Plains, Yonkers, and Scarsdale, New York. We have an array of vehicles you might be interested in. That's why we put together this Lexus RX vs. Lexus GX comparison—so you can see what each has to offer.
From performance to dimensions, there's plenty to enjoy in these rides. Read on to learn more!
The Lexus RX: Overview
What do you look for in your ideal set of wheels? If impressive performance is a big calling, then you're in for a treat. When you lift up the hood of the Lexus RX, you'll find a standard 3.5L V6 engine, with 295 horsepower and 268 lb-ft of torque. This works in tandem with the 8-speed automatic Electronically Controlled Transmission with paddle shifters, as well as front-wheel drive or Dynamic Torque Control all-wheel drive with variable torque split.
The RX has a well-deserved title of Certified Ultra-Low Emission Vehicle, thanks to its fuel efficiency. It achieves an EPA-estimated 20 city/27 highway/23 city combined MPG rating on front-wheel drive vehicles and a 19 city/26 highway/22 combined MPG rating with all-wheel drive.
The Lexus GX: Overview
Next up, we have the Lexus GX. How does its power showcase itself in contrast to the RX? It kicks off with a standard 4.6L V8 engine, with 301 horsepower and 329 lb-ft of torque. This comes paired with a 6-speed sequential-shift automatic Electronically Controlled Transmission with intelligence as well as full-time 4-wheel drive with Torsen® limited-slip center differential.
All of this comes together with an EPA-estimated 15 city/19 highway/16 combined MPG rating, which allows you to drive greener. The GX is a Certified Ultra-Low Emission vehicle, so you'll be cruising long-term.
Comparative Dimensions
It's a given that dimensions play a big role in your ease behind the wheel. Why is that? Well, it's important that drivers like you are comfortable as you cruise. The interior and the exterior measurements can impact that—like with the legroom, for example.
So, what does that look like in these models?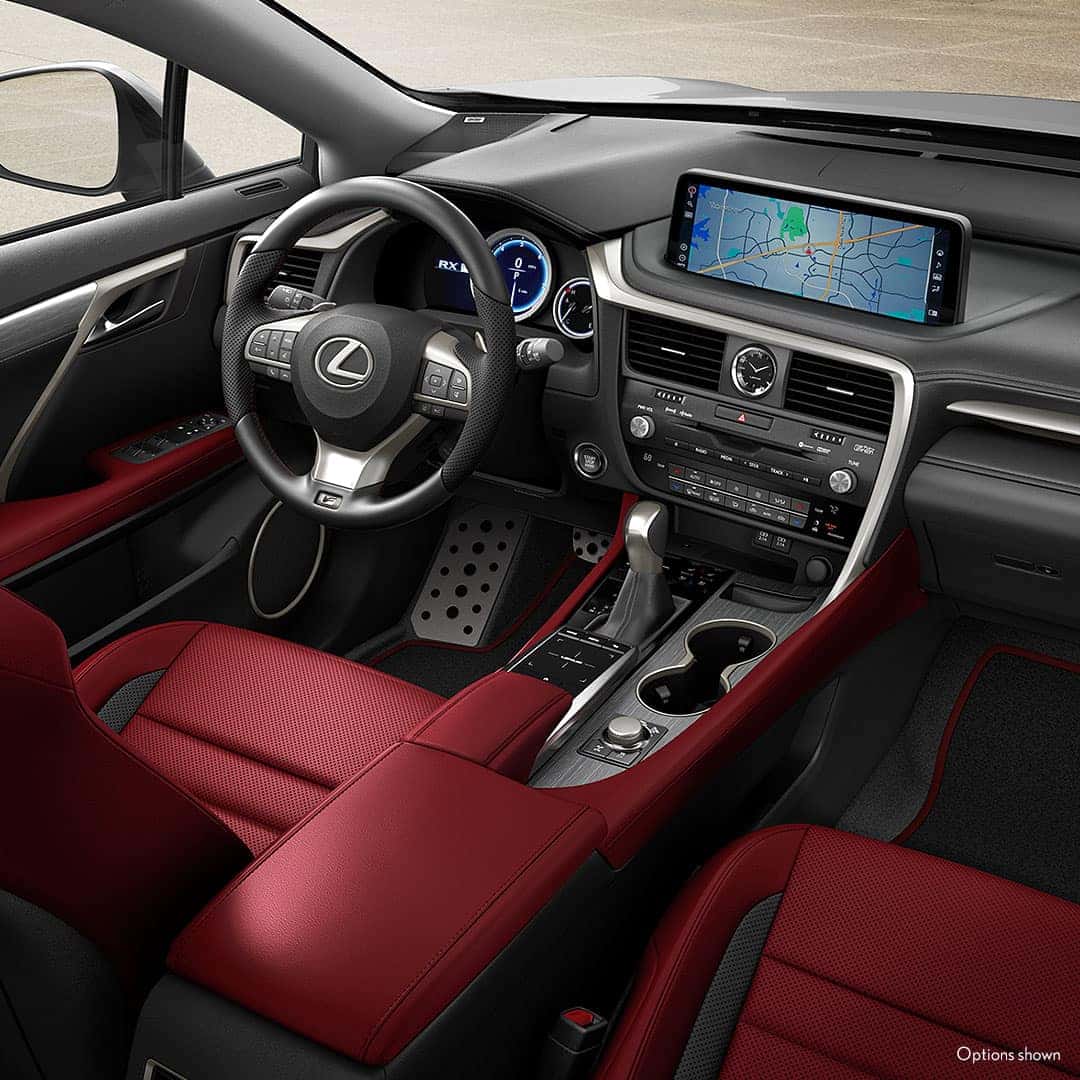 In the RX, you'll be kicking off with 39.4 inches of front headroom and 39.1 inches of rear headroom. You'll also enjoy 44.1 inches of front and 38 inches of rear legroom, 57.8 inches of front and 57.6 inches of rear shoulder room, and 56.6 inches of front and 56.1 inches of rear hip room. You'll find 16 cubic feet of cargo space behind the front-row seats and 32.7 cubic feet of cargo space behind the rear row of seats to store whatever you need.
Comparatively, in the GX, you'll have lots of room to stretch out too. It opens with 38 inches of front-row headroom, 40.4 inches of middle-row headroom, and 35.2 inches of third-row headroom. Passengers will appreciate the 41.7 inches of front-row legroom, 34.1 inches of middle-row legroom, and 29.3 inches of third-row legroom.
You'll find 55.4 inches of front-row shoulder room, 57.3 inches of middle-row shoulder room, and 54.5 inches of third-row shoulder room. Next, you'll enjoy the 56.5 inches of front-row hip room, 55.2 inches of middle-row hip room, and 43.1 inches of third-row hip room.
Lastly, you'll have 64.7 cubic feet of cargo space behind the front row, 46.7 cubic feet behind the second row, and 11.6 cubic feet behind the third row of seats.
Take Home Your Favorite Today
Now that you've read this Lexus RX vs. Lexus GX comparison, you've seen what they both have to offer. Each of these sets of wheels boasts plenty of strength, comfort, and measurements that will provide an amazing ride for drivers of all kinds.
When it's time to get your hands on one, get in touch with our team at Lexus of White Plains. Interested drivers near White Plains, Yonkers, and Scarsdale, NY, should come visit us.
Contact us today to take home your new favorite on-road companion!