Lexus Service Center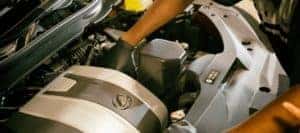 Lexus Service Center
Your Lexus is an expertly crafted and fine-tuned machine that requires a little upkeep over the years to ensure that it continues its strong performance while remaining in its luxurious condition. When you're looking for automotive service in the Larchmont, New Rochelle, and Yonkers area for your Lexus, why gamble? The Lexus Service Center at Ray Catena Lexus of Larchmont is your destination for the most qualified service and technicians to handle the inner workings of your Lexus model.
The Benefits of Regularly Scheduled Lexus Service
When it comes to taking great care of your Lexus and keeping it in great condition, regularly scheduled service and maintenance is absolutely necessary, especially if you're looking to keep your Lexus around throughout the years. Staying on top of oil changes will result in your vehicle performing at its best and at its most efficient. Through a series of quick, but necessary, services, you'll be able to keep your Lexus looking and performing at its best.
Regular service is even the best way to spot any issues with your vehicle that could become worse over time. By finding the issue and fixing it, you can effectively put off a costly and inconvenient vehicle error, and you'll be able to continue the joys of driving your Lexus.

Our Lexus Certified Technicians
At our Lexus Service Center, we've amassed a team of skilled expert technicians who are Lexus Certified. This means that they've received specific training on the best way of servicing and maintaining a Lexus engine, body, and components. Using state-of-the-art tools and technology, they'll be able to determine any issues occurring with your vehicle and its performance so they can work towards a long-lasting solution that has you back out on the road in style.
Scheduling Lexus Service
If you're in need of service with your Lexus, scheduling an appointment with us at Ray Catena Lexus of Larchmont is really easy. You can either call us at (914) 833-5000, or you can schedule your service online. We just need some basic information about you and your vehicle. We'll then contact you to confirm your appointment with our Lexus Service Center.
Are you in need of help with maintaining your stylish and luxurious Lexus? Schedule your service with us today. Ray Catena Lexus of Larchmont is proud to provide exceptional automotive service to drivers all throughout the Larchmont, New Rochelle, and Yonkers areas.