Stellar Sushi Spots near White Plains, NY

Do you have a craving for some sushi? If so, it's time to check out the top sushi spots near White Plains, NY. These sushi restaurants know that so much of the joy of this incredible delicacy is in not only its taste, but its appearance.
Sushi, more than anything, is an art form and a meal all in one. Here are three local spots that take the time to craft an impressive finished product.
Azuma Sushi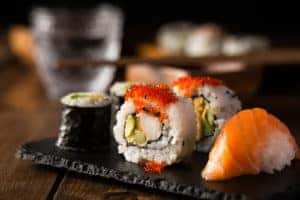 Azuma has been a long-time sushi restaurant in the area, serving up Tokyo-style sushi since 1983. This sushi is created with a simple elegance, standing on substance over style. Master Sushi Chef Yasu Izumiya's hands bring you on a journey through Japan, right here in the middle of New York.
Azuma has focused on creating authentic Edo-mae sushi, matched by a commitment to Japanese hospitality in the welcoming and calming dining area.
Enjoy a wide-ranging menu that includes options like tuna belly, salmon, eel, octopus, and sea bream. Find your favorite new roll or stick to a classic. The choice is always yours at Azuma.
Gyu-Kaku Japanese BBQ
At Gyu-Kaku, spending time with friends and family is what it's all about, with the fun of shared plates bringing everyone together.
The Gyu-Sushi is crafted using a premium roast beef sushi, with a splash of Japanese shoyu barbecue sauce bringing out the flavor of the beef. When paired with the kuki-wasabi, you're well on your way to a sushi feast.
You won't just find delicious sushi here, but also a full array of Japanese BBQ items, including premium sirloin, Yaki-Shabu beef, and Umakara Ribeye with garlic Shio cabbage. It's a true Japanese BBQ experience at Gyu-Kaku!
Ichiro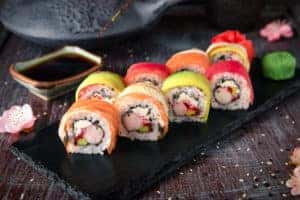 The modern Japanese cuisine at Ichiro allows you to enjoy the finest steak and seafood expertly prepared by master chefs. Of course, the executive sushi chefs are standing by, too, ready to put the finest seasonal ingredients to the test to emphasize color, shape, flavor, and texture. Every ingredient is carefully chosen to enhance the dining experience.
Choose sushi or sashimi a la carte, with options including red clam, tuna, yellowtail, and salmon, along with the fancier options like king crab.
There are also vegetable roll options like cucumber, avocado, and sweet potato that just may transform the way you look at sushi.
Make it a Night Out at These Sushi Restaurants near White Plains
Sushi is one of those special meals that really shines in the hands of experts. Rely on the talented sushi chefs in our area, make it a night out, and enjoy the best sushi near White Plains, New York!